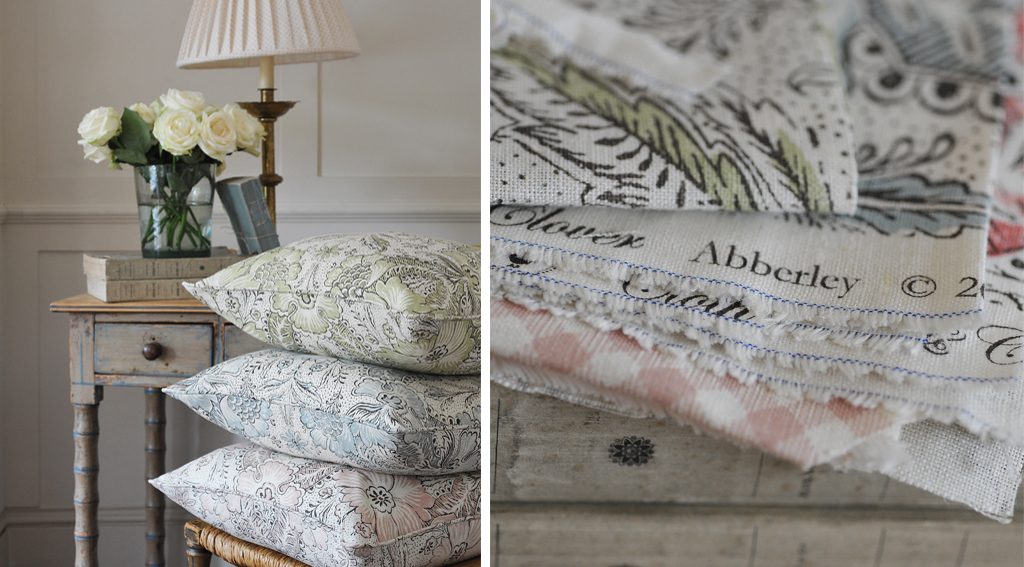 Linen
Cloth & Clover designs are printed on to a pure linen base cloth. We work with two weights of linen base cloth, the 280gsm which is perfect for drapes, light upholstery, cushions and other accessories and the 380gsm which is a lovely upholstery weight, whilst also being suitable for drapes and accessories too. We recommend dry-cleaning our fabrics in order to retain their finish and avoid shrinkage. We do not treat any of our fabric with flame-retardants or stain-guard, you should therefore use a fire retardant liner if the fabric is being used for fixed upholstery.
Wallpaper
Our wallpaper is printed on to a wide width non-woven base paper. The base paper is made entirely of cellulose fibres so unlike a traditional wallpaper it doesn't need to be pasted and left to expand, instead the paste is applied directly onto the wall and the prepared sections of wallpaper are hung onto the pasted wall.
Hanging Advice
We strongly recommend that you commission a professional decorator to hang your wallpaper, however, you might also find some of the hints and tips listed below helpful reference:
We print our wallpaper by hand and to order and so it is likely there will be slight variations from batch to batch – do measure carefully and allow sufficient wallpaper for the project.
We recommend that your walls are lined with lining paper before your wallpaper is hung- this may seem like an unnecessary stage, but it provides a good even base and will help to cover any patches or unevenness on the walls. The lining paper should be hung horizontally using a good quality adhesive and allowed to completely dry before proceeding.
Use a traditional starch based, ready mixed paste for the wide width wallpaper. PVA or PVC adhesives are not suitable as they may stain the surface of the paper.
Please note that the walls should be pasted, not the wallpaper.
Use a felt roller to smooth the paper once applied to the wall, and try to avoid pressing the wallpaper as you hang it on the wall, gently wipe away any surplus paste that may escape through the joins with a soft, clean cloth in order to avoid marking the printed side of the wallpaper.
Always check the correct way up of the design before hanging.
The wallpaper will be supplied with a selvedge legend (as on the fabric) which should be trimmed off with a sharp scalpel or craft knife and a metal ruler to ensure a straight edge.
Avoid wiping or sponging the wallpaper once in situ, if you are wallpapering an area of high traffic, you may consider coating the surface of the paper with a clear matt varnish to add protection.
We always carefully check the wallpaper before it is dispatched, however we recommend you check your wallpaper for any flaws or technical imperfections before installation and within 14 days of delivery, do please contact Cloth & Clover immediately if there are any queries or problems.
Please note that we cannot accept responsibility for wallpaper that is hung after 3 lengths of paper have been installed.
Please note that this information has been supplied in good faith but without guarantee.